Here at Cora Refining we take pride in delivering the most accurate and highest return on all your dental scrap. Not only do we use the most state of the art techniques such as x-ray fluorescence to derive the value of your dental scrap, but we also used tried and true methods such as fire assay and gravimetric precipitation. We take multiple readings for each lot to ensure the accuracy of the amount of precious metals in your discarded crowns and bridges.
Make A Good Impression
We strive to get you the highest return for your dental scrap. Metal impressions of crowns or bridges are often rich in precious metals, which will greatly maximize your return. Before shipping off your crowns or bridges to the Cora Refinery, it is important to know a little bit about how they were made. The materials used in the impression are a vital factor in maximizing your return!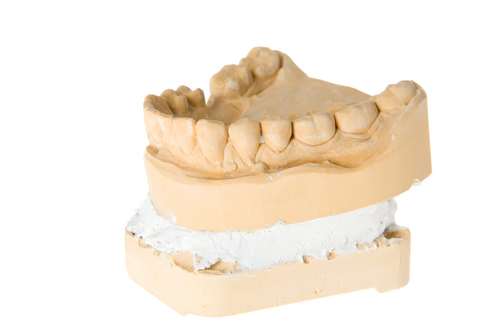 Alloy, Matey!
It is highly likely that your crown or bridge is made with metal alloys. Alloys are metallic substances made by mixing and fusing two or more metals, or a metal and a nonmetal, to obtain desirable qualities such as hardness, lightness, and strength. Perfect for a crown or a bridge! There are three different kinds of alloys: high noble, (precious) noble (semi-precious), and non-noble (non-precious).
High Noble Alloys: Just like its name suggests, high noble alloys are rich in precious metal. High noble alloys are comprised of over 60% metal, gold being the primary one. High noble alloys are usually yellow, silver, or white in color, and are incredibly durable. Other metals used in the noble classification typically include copper or palladium.
Noble Alloys: Still of precious descent, noble alloys contain precious metals, just not as much as those of higher nobility. Usually about 25% of a noble alloy will be gold and 40% silver, also containing palladium, indium, zinc, and iridium, for example. The nobles are usually yellow in color.
Non-noble Alloys:The non-nobles are also referred to as base metals and are silver or white. It's unlikely to contain any precious metals, but if they do, it is less than 25%. The most metal in a non-noble alloy is comprised of nickel, cobalt, chromium or beryllium.
It is very likely that the impressions of a crown, bridge or denture contain some material that is worth getting refined. Remember that through our dental scrap refinery, we will turn the scrap in your dustpan into cash in your hand. We are always 100% up-front about our services and your scrap, and if you have any questions, don't hesitate to Contact Us today and start making money back from your dental scrap!
---
Are my bridges and crowns worth money? Find out at Cora's refinery! We specialize in the most up to date technology in extracting the precious metals from your unwanted bridges and crowns.