If you use palladium to create crowns and bridges in your dental lab, you may have noticed that it's not so cheap anymore. In fact, since 2008, it has gone up nearly 450% (wouldn't it be nice if all of our investments achieved such stellar returns!). The steep price run-up has even taken dental refiners by surprise.
So what's going on with palladium?
As we discussed in an earlier post, the dental industry actually makes up a very small portion of the global demand for palladium. The major player in the palladium market is the auto industry. Nearly 80% of all palladium demand is from the global auto industry1.
Palladium is used in catalytic converters in gas-fueled cars. It helps to reduce emissions from the car – which is a good thing.
But Europe is undergoing some changes. European drivers have always preferred diesel cars for their fuel economy; however since the Volkswagen emissions scandal coupled with a growing awareness of environmental issues, many Europeans are now turning away from diesel cars.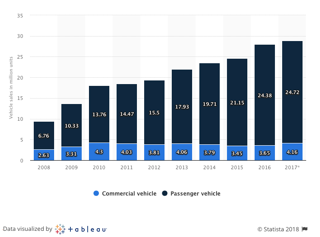 The palladium perfect storm
While European preferences are shifting, China continues to grow and their preferences are changing as well (with a little help from the Chinese government). China's car sales have grown every year since the early 2000's. In fact, China sold the highest number of vehicles in the world for the 9th consecutive year (see chart).
Just for a little perspective, in 2017, China sold 28.88 million cars. That's a lot of cars!
This was all with a little help from the Chinese government who offered tax cuts for car purchases over the past few years. But those tax cuts are being phased out and are expected to end soon. That is reflected in the chart as growth only increased by 1.4% over 2016 levels.
And here's where things get interesting
The Chinese government has a few goals in mind. They'd like to lead in automotive technology, curb pollution, and cut dependence on imported oil. To achieve those goals, they offered subsides to buy electric cars (primarily from Chinese manufacturers).
The incentives worked
China sold 777,000 electric cars in 2017, an increase of 53% from 2016. Those incentives are expected to increase over the next 2 years. In 2020 they plan on ending the subsidies.3
So what does this have to do with the price of palladium?
Electric cars use far less palladium (there may be some in the fuel cells, but not nearly as much as in catalytic converters). China's push towards electric cars, while simultaneously eliminating subsidies on regular cars would point to lower demand for palladium. While this is only considering the demand of one country, it is a large part of the auto market and it could have an impact on the palladium prices in the future.
So what about the palladium supply?
Palladium is a by-product of platinum and nickel projects. As you may have noticed, the prices of these two metals have been relatively depressed of late. Mining activity is down.
While nobody can predict market prices, one can make an educated guess based on factors such as economic trends and supply and demand. We do want to emphasize that we are not making a prediction about the palladium price. But our hope is that by providing this information to our dental clients (both dental labs and dentists alike), they'll be able to make more informed decisions concerning their metal purchases.
And of course, we encourage you to keep an eye on the prices if you are holding palladium crowns and bridges. You can request a shipping container anytime to have it on hand for when you are ready to send in.
---
Sources:
1 – https://themarketmogul.com/palladium/
2 – https://www.wsj.com/articles/chinas-auto-market-slips-into-slow-laneexcept-for-evs-1515669639
3 – https://gbtimes.com/china-tops-global-car-sales-for-ninth-consecutive-year